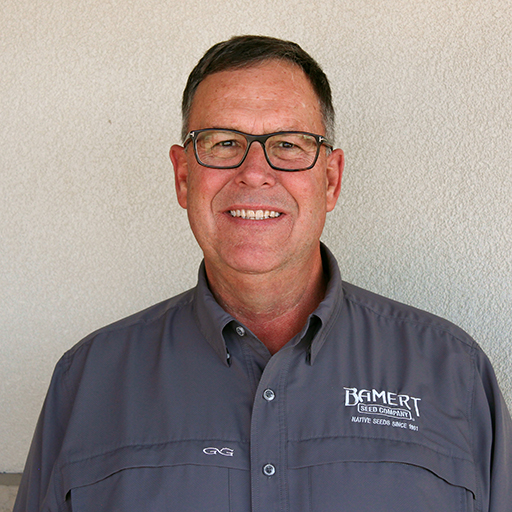 Nick Bamert was raised on the family farm in Bailey County, Texas. He graduated from Texas A&M in 1981 with a Bachelor of Science in Agricultural Economics. Upon graduation, he returned to the seed farm that his father, Carl, started in 1951. As the business grew over the years, so did Nick and Rayniel's family. They have two sons, Brett and Austin, who have both returned to continue the growth of the family business — Bamert Seed Company.
Nick currently serves as Chairman of Bamert Seed Company. Nick has served as President of the Texas Seed Trade Association and the Southern Seed Association. He has also served on several state and national committees for natural resources and conservation, including the Texas State Technical Advisory Committee for NRCS and the American Seed Trade Association Environmental and Conservation Seed Committee. In 2017, Bamert Seed Company was named Business of the Year for Muleshoe, Texas.
Nick served on the Muleshoe ISD board of trustees for 14 years, serving as secretary and president for most of his term. He is an alumnus of the Texas Agricultural Lifetime Leadership program. Nick is active in his church and helps Bamert Seed Company provide educational opportunities at Texas A&M University.
In Nick's spare time, he enjoys spending time with his family, all things outdoors (such as fishing and hunting) and sports — especially watching the Aggies win!
Brett Bamert was raised in Muleshoe, Texas, and graduated high school in 2006. While in high school, Brett would work on the seed production side of the family business. Brett went to college at Texas A&M University and graduated in 2010 with a degree in agricultural economics. Brett followed his grandfather Carl's sage advice: "Go down there and get your bachelors. Come home, and I'll give you your PhD." After graduation from Texas A&M, Brett and his wife, Madison, moved back to Muleshoe, where they currently reside with their three daughters, Brookelyn, Sadie, and Riley.
Brett currently serves as President and oversees the day-to-day operations of the company. Bamert Seed is a member of the American Seed Trade Association, Texas Seed Trade Association (TSTA) and the Western Seed Association. Brett currently serves on the executive board of the Western Seed Association and is on the State Technical Advisory Committee for NRCS. Brett has served on the executive board for TSTA and was the Young Seedsman of the Year for the Western Seed Association in 2017. Brett was a member of the Texas Agricultural Lifetime Leaders class of 2015 and spent two weeks with the group touring agriculture in China.
Brett has also served on the executive board of the Muleshoe Rotary club, where he was president for a year. He also served as the chair of the Muleshoe area Texas A&M Club. Brett spends his free time raising kids. He is also a private pilot, and enjoys aviation and anything outdoors.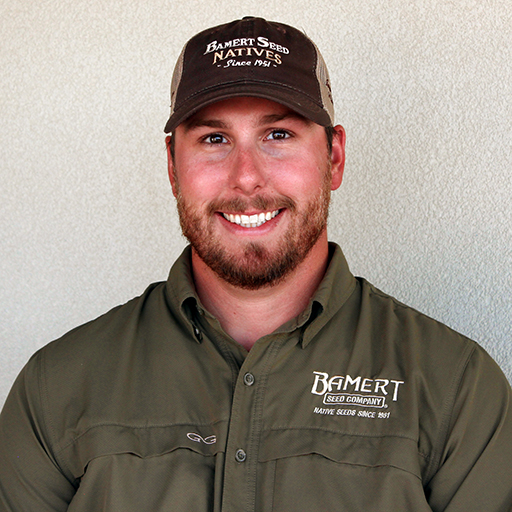 Austin Bamert - Vice President
Austin Bamert grew up on the family farm, where he enjoyed playing football and showing cattle. Growing up, he worked in all facets of the family business — Bamert Seed Company — from driving tractors, to cleaning seed, and loading trucks. As he grew, his passion for agriculture also grew. Austin pursued an Agriculture Systems Management degree at Texas A&M University. While he was there, he worked at the A&M Energy Sorghum Research Farm, where they harvested and evaluated multiple forages for biofuels. Upon graduation in 2014, he returned home to pursue a career in the native seed business. His responsibilities range from overseeing production in multiple locations, to planning and coordinating the production techniques for the many species produced, serving as the resident agronomist, and evaluating the economics of each farming unit.
Austin enjoys spending his free time with his wife, Avery, and their daughters, Willow and Sawyer.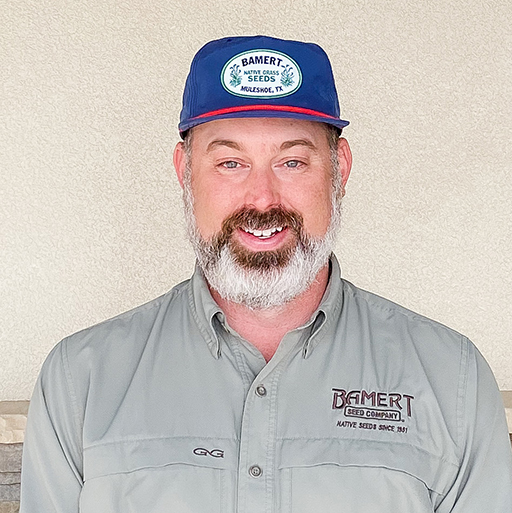 Rob Cook - Director Of Business Development
Rob grew up in the small ranching and farming community of Vega in the Texas Panhandle. He received a B.S. and a M.S. in Range and Wildlife Management from Angelo State University. After graduation, Rob spent 15 years consulting land managers on improving/maintaining ecological function on grazing lands across the Southern Great Plains. He served as a Rangeland Specialist and District Conservationist with the NRCS and as the Planned Consultation Manager with the Noble Research Institute.
Currently, Rob is the Director for Business Development for Bamert Seed Company, where he is responsible for developing the strategic plan to deliver high-quality native grass, forb, and legume seeds to the agriculture and reclamation industries.
He serves on the National Grazing Lands Coalition Board of Directors as well as the Texas and Oklahoma Section Society for Range Management Board of Directors. He has been awarded the National and Texas Young Range Professional of the Year from the Society for Range Management.
Rob and his wife, Landri, have two children. The family enjoys hunting, fishing, camping, and spending time with family and friends in their spare time.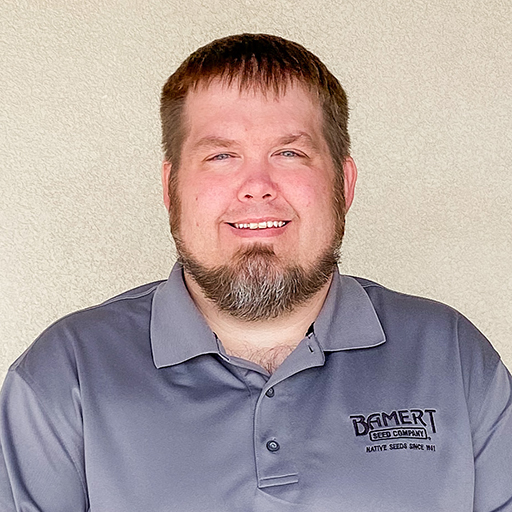 Nicholas Demel - Reclamation Specialist
Nicholas Demel has been a Reclamation Specialist with Bamert Seed Company since 2014. He helps educate clients to ensure they achieve the best results when planting native seeds.
Before coming to Bamert Seed Company, Nicholas worked for the Natural Resources Conservation Service for five years in several offices throughout the Texas Panhandle. He graduated with his MBA in Marketing in 2007 from West Texas A&M University.
Nicholas grew up on a family farm in Pep, Texas. He and his wife, Chasity, have one daughter, Poppy.
Brian Hays - Reclamation Specialist
Brian grew up in Brownwood, Texas. He received his B.S. and M.S. in Rangeland Ecology and Management from Texas A&M University. After graduation, Brian spent 25 years consulting with producers in the southern great plains to improve their grazing lands and wildlife habitat. He served as an Extension Program Specialist with Texas A&M AgriLife Extension Service and a Range and Pasture Consultant with Noble Research Institute.
Currently, Brian is a Reclamation Specialist with Bamert Seed Company. He works with clients to ensure they achieve the best results when planting native seeds.
Brian currently serves on the Board of Directors for the Oklahoma Section of the Society for Range Management and is a Past President and Board member of the Texas Section Society for Range Management. He is a Certified Professional in Range Management and currently is chair of the grazing sub-committee of Texas NRCS-STAC.
Brian and his wife Amy have 3 children. The family enjoys traveling, hunting and fishing and spending time with friends and family.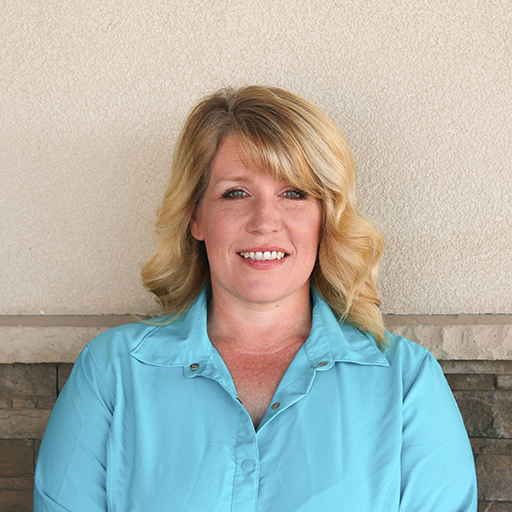 Diane Moore - Inventory & Logistics Coordinator
Diane Moore has been in charge of Shipping and Inventory at Bamert Seed Company since January of 2000. Her job includes invoicing, shipping, seed testing, and managing seed inventory. Before starting with Bamert Seed Company, Diane was the office Manager of Alco in Muleshoe, Texas. Her duties included payroll, daily deposit reconciliation, inventory, and the opening and closing of the store.
Diane grew up in Clovis, New Mexico, and has two children, Heather and Brittany, and five grandchildren: Cameron, Logan, Spencer, Lilah and Elijah.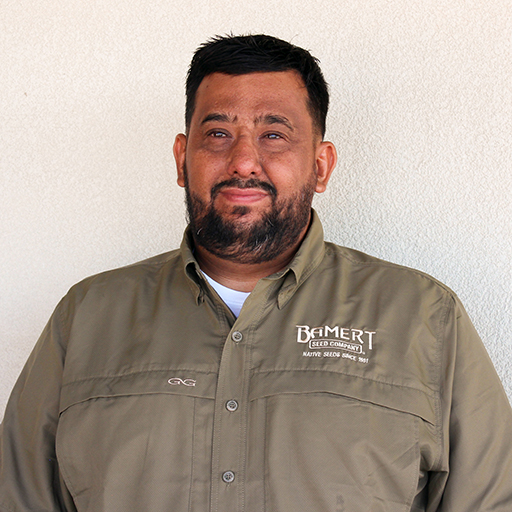 Manuel Cardenas - Warehouse/Processing Manager
Manuel Cardenas is the Warehouse/Processing Manager for Bamert Seed Company. Manuel has been part of Bamert Seed Company since 2017. Before joining Bamert, Manuel spent 12 years as a welder and millwright, as well as five years in industrial maintenance. Manuel's background and experiences have been a great part of his success at Bamert Seed Company. Being part of Bamert Seed has allowed Manuel to stay close to home and enjoy his family.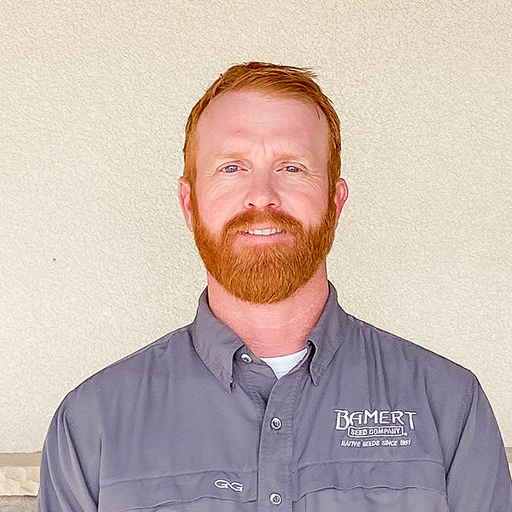 Jeff King - Production Manager
Jeff King is a native of Muleshoe, Texas. He holds a Bachelor of Science degree in Occupational Education from Wayland Baptist University. Growing up on a family farm fed Jeff's passion for agriculture, which he turned into a rewarding career. Jeff's agricultural experience includes production of conventional agricultural commodities, fertilization, pest management, and irrigation conservation practices.
Jeff joined Bamert Seed in 2017 and manages the production of over 200 species of native grasses and flowers. Jeff loves the land and diligently keeps up with agricultural literature, trends, and technology. This affords him the opportunity to employ innovative techniques and carry on the Bamert Seed tradition of providing the market with the highest quality seed.
Jeff and his wife, Suzanne, have two kids, Isla and Rex. In his spare time, Jeff likes to hunt, workout, and spend time with his family and friends.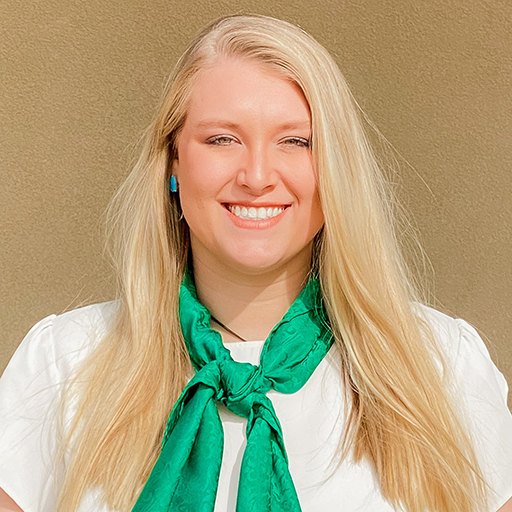 Natalie Ingle - Communication Liaison
Natalie Ingle was born and raised in Olton, Texas, where she still resides with her husband, Matthew. She graduated from Texas Tech University, in 2018, with a bachelor's degree in Communications.
Natalie joined Bamert Seed in 2021. Natalie is the Director of Accounting & Human Resources. She works to assist with agriculture communications between Bamert Seed and their customers.
Natalie enjoys spending time in her kitchen, baking and decorating cookies and cakes for all occasions, both big and small. Natalie has a love for traveling, as of August 2021, she has been to 29 of the 50 states. Natalie is the biggest cheerleader to her husband, who is a football coach. You will always see her up in the stands at a sporting event cheering on his team.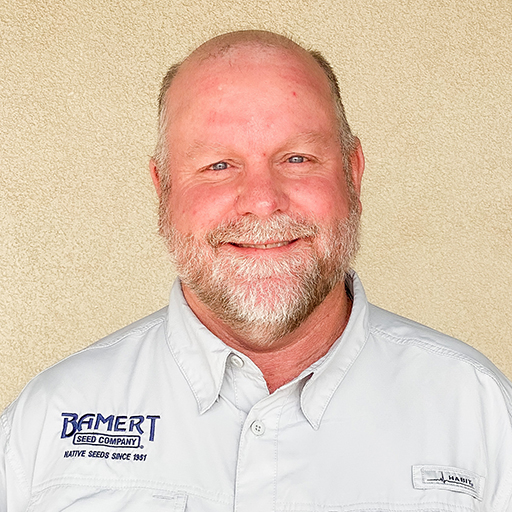 James Locke - Reclamation Specialist
James grew up in Lubbock, Texas, where he received his B.S. in Crop Science from Texas Tech University. He continued his education at Texas A&M University, where he received his M.S. in Agronomy-Weed Science. After graduation, he spent 15 years conducting contract research on a wide variety of agronomic and horticultural crops grown in west Texas and eastern New Mexico. He then spent almost 17 years as a consultant providing soil fertility, weed and brush management guidance to forage producers in southern Oklahoma and north Texas.
James is a Reclamation Specialist working with clients to select the appropriate seed or blends of seed to achieve their objectives. He also works with production staff to assist with seed production on Bamert's farms.
James holds Certified Crop Advisor and Resistance Management Specialist certifications from the American Society of Agronomy. He is a long-time member of the National Alliance of Independent Crop Consultants, the Weed Science Society of America and the Southern Weed Science Society.
James enjoys hunting and fishing, and traveling with his wife, Ruth Ann.