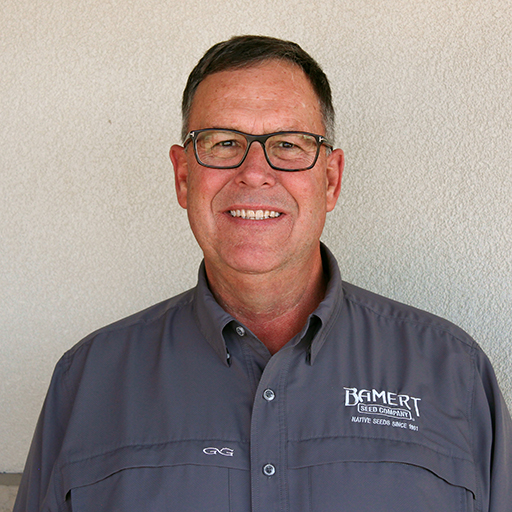 Nick Bamert was raised on the family farm in Bailey County, Texas. He graduated from Texas A&M in 1981 with a Bachelor of Science in Agricultural Economics. Upon graduation, he returned to the seed farm his father, Carl, started in 1951. As the business grew over the years, so did Nick and Rayniel's family. They have two sons, Brett and Austin, who have both returned to continue the growth of the family business — Bamert Seed Company.
Nick currently serves as Chairman of Bamert Seed Company. Nick has served as President of the Texas Seed Trade Association and the Southern Seed Association. He has also served on several state and national committees for natural resources and conservation, including the Texas State Technical Advisory Committee for NRCS and the American Seed Trade Association Environmental and Conservation Seed Committee. In 2017, Bamert Seed Company was named Business of the Year for Muleshoe, Texas.
Nick served on the Muleshoe ISD board of trustees for 14 years, serving as Secretary and President for the majority of his term. He is an alumnus of the Texas Agricultural Lifetime Leadership program. Nick is active in his church and helps Bamert Seed Company provide educational opportunities at Texas A&M University.
In Nick's spare time, he loves spending time with his kids and grandkids, fly-fishing, hunting, playing golf, and watching sports — especially watching the Aggies win!
Brett was raised in Muleshoe, Texas, and graduated high school in 2006. While in high school, Brett worked on the seed production side of the family business. He attended college at Texas A&M University and graduated in 2010 with a degree in Agricultural Economics. Brett followed his grandfather Carl's sage advice: "Go down there and get your bachelors. Come home, and I'll give you your Ph.D." After graduation from Texas A&M, Brett and his wife, Madison, moved back to Muleshoe, where they currently reside with their three daughters, Brookelyn, Sadie, and Riley.
Brett currently serves as President of Bamert Seed and oversees the day-to-day operations of the company. His role involves working closely with Bamert's team to evaluate goals and objectives, compliance with the overall mission and vision, and strategies to continue bringing clients the best native seed possible. His greatest passion about Bamert is its people. Every single person who works at Bamert, from seed specialists to seed production to warehouse employees takes pride in the fact that Bamert is a leader in its industry and a company that customers know they can trust.
Brett is also passionate about how the Bamert team can continue to grow and contribute to innovation in the seed industry. While much of his work involves day-to-day tasks such as overseeing budgets or ensuring departments meet their goals, he is also evaluating complex seed data and working with Bamert Specialists to ensure Bamert Seed Company is always a leader in native seed production, reclamation, and restoration.
Bamert Seed is a member of the American Seed Trade Association, the Texas Seed Trade Association (TSTA), and the Western Seed Association. Brett currently serves on the executive board of the Western Seed Association and is on the State Technical Advisory Committee for NRCS, and was President of the Western Seed Association in 2022. Brett has served on the executive board for TSTA and was the Young Seedsman of the Year for the Western Seed Association in 2017. Brett was a member of the Texas Agricultural Lifetime Leaders (TALL) class XV and spent two weeks with the group touring agriculture in China. After attending this class, Brett has since hosted a tour of Bamert Seed Facility every two years for the newest members of the TALL class. Brett has also served on the executive board of the Muleshoe Rotary club, where he was president for a year, and is currently the chair of the Muleshoe area Texas A&M Club.
Brett's time outside of work is spent with his family. Raising three energetic young girls is the most important part of his life, and he loves traveling with his family, spending time at the lake, or doing anything outdoors. He is also a private pilot and enjoys flying for work conferences or flying his family to fun locations.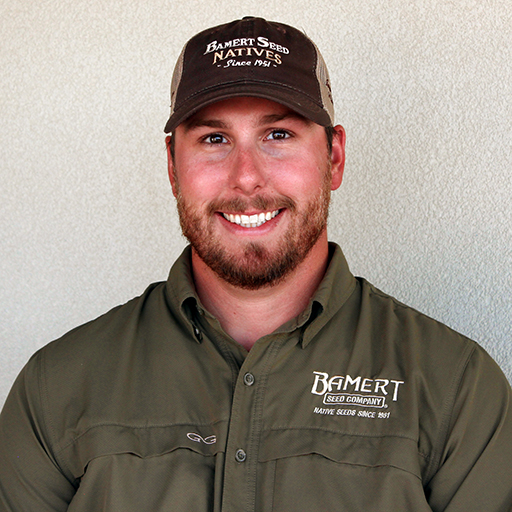 Austin Bamert - Vice President
Autin's passion for farming was born on his family's farm in Muleshoe, Texas, where he worked in all aspects of the family business from production to shipping. This experience lead him to pursue a B.S. in Agricultural Systems Management from Texas A&M University. While he was there, he worked at the A&M Energy Sorghum Research Farm, where they harvested and evaluated multiple forages for biofuels.
Upon graduation in 2014, he returned home to pursue a career in the native seed business. His responsibilities range from overseeing production in multiple locations, planning and coordinating the production techniques for the many species produced, serving as the resident agronomist, and evaluating the economics of each farming unit. He is passionate about creating the highest quality native seeds that will help meet customers' needs and restore the land.
Outside of work, Austin loves to be with his family. He and his wife, Avery, have two beautiful daughters, Willow and Sawyer.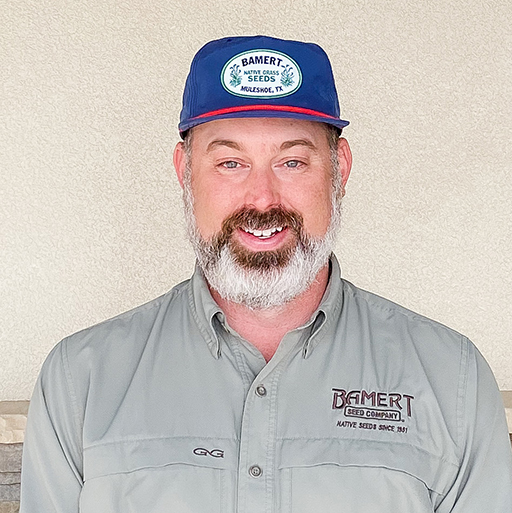 Rob Cook - Director Of Business Development
Rob grew up in the small ranching and farming community of Vega in the Texas Panhandle. He received a B.S. and a M.S. in Range and Wildlife Management from Angelo State University. After graduation, Rob spent 15 years consulting land managers on improving/maintaining ecological function on grazing lands across the Southern Great Plains. He served as a Rangeland Specialist and District Conservationist with the NRCS and as the Planned Consultation Manager with the Noble Research Institute.
Currently, Rob is the Director for Business Development for Bamert Seed Company, where he is responsible for developing the strategic plan to deliver high-quality native grass, forb, and legume seeds to the agriculture and reclamation industries.
He serves on the National Grazing Lands Coalition Board of Directors as well as the Texas and Oklahoma Section Society for Range Management Board of Directors. He has been awarded the National and Texas Young Range Professional of the Year from the Society for Range Management.
Rob and his wife, Landri, have two children. The family enjoys hunting, fishing, camping, and spending time with family and friends in their spare time.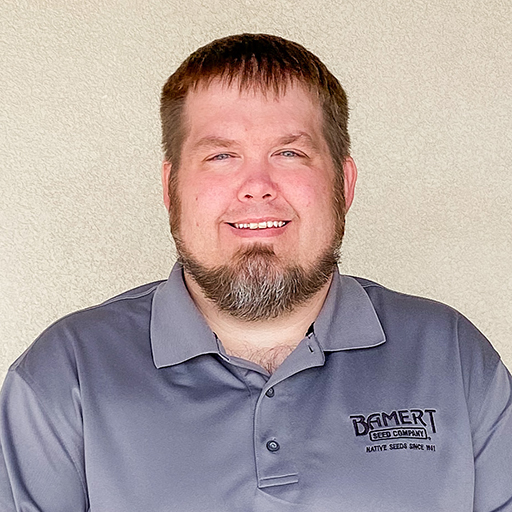 Nicholas Demel - Reclamation Specialist
Nicholas Demel grew up on a farm in Pep, Texas, and went on to attend West Texas A&M University, where he received both his BBA and MBA in Marketing. After graduating, he worked for the USDA Natural Resources Conservation Service for five years in several offices throughout the Texas Panhandle. While at the NRCS, aspects of his work dealt with grass-seeding programs, which proved to be a helpful experience for his next career.
Nicholas joined our team in 2014 as a Reclamation Specialist. He helps educate our clients to ensure they achieve the best results when planting their native seeds. His role also involves staying current on what changes are taking place in the market, as well as opportunities to attend shows, conferences, and other gatherings to both learn and share his knowledge.
Nicholas and his wife, Chasity, have a daughter named Poppy. When Nicholas isn't working, they enjoy spending time together watching movies, playing outside, and taking the occasional trip to Main Event for laser tag and arcade games.
Brian Hays - Reclamation Specialist
Reclamation Specialist Brian Hays was born in Abilene and raised in Brownwood, Texas. After receiving both his B.S. and M.S. in Rangeland Ecology and Management from Texas A&M University (in 1992 and 2003, respectively), Brian has spent the past 25+ years consulting with producers in the southern great plains to improve grazing practices, build effective rangeland management plans, and native range enhancement. During this time, Brian served as an Extension Program Specialist with Texas A&M AgriLife Extension Service and a Range and Pasture Consultant with Noble Research Institute.
As one of our Reclamation Specialists, Brian works with clients to help them achieve success in their restoration and reclamation projects. In this role, he provides insight and guidance to help customers clearly identify their desired outcome, specific needs, and which native seeds will be best for their project. His role also takes him on the road to conferences, tradeshows, and sales trips.
It's not just our team and customers who benefit from Brian's experience, work ethic, and insights. He currently serves on the Board of Directors for the Oklahoma Section of the Society for Range Management and is a Past President and Board member of the Texas Section Society for Range Management. He is a Certified Professional in Range Management and currently is a member of the grazing sub-committee of Texas NRCS-STAC.
Outside of work and these roles, Brian and his wife, Amy, are busy traveling with their family, watching their youngest son play basketball and golf, and caring for the four dogs and herd of goats. As often as time allows, Brian likes to hunt, fish, and golf with his kids.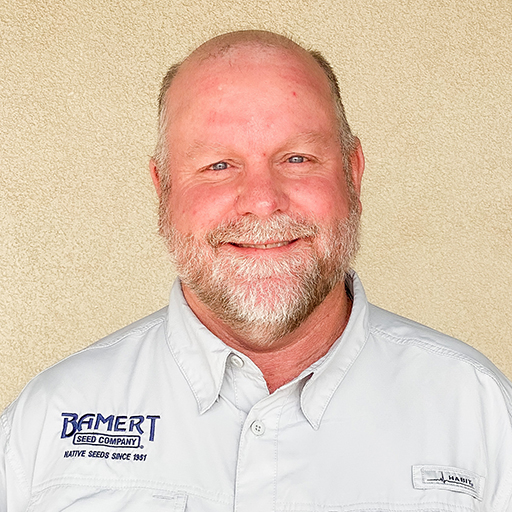 James Locke - Reclamation Specialist
Raised in Lubbock, Texas, James received his B.S. in Crop Science from Texas Tech University and his M.S. in Agronomy-Weed Science from Texas A&M University. After his graduation, he spent 15 years conducting contract research on a wide variety of agronomic and horticultural crops grown in west Texas and eastern New Mexico. He then spent almost 17 years as a consultant providing soil fertility and weed and brush management guidance to forage producers in southern Oklahoma and north Texas.
James's experience and background contribute greatly to his work at Bamert. He holds Certified Crop Advisor and Resistance Management Specialist certifications from the American Society of Agronomy. He is also a long-time member of the National Alliance of Independent Crop Consultants, the Weed Science Society of America, and the Southern Weed Science Society.
As a Reclamation Specialist, James works with our clients to help select the seed or seed blend that will best achieve their objectives. He also spends time in our fields with our production team, helping to identify any issues in seed production.
James and his wife, Ruth Ann, love to spend time with their two Corgis, Bryn and Gus, and travel to see their children and experience new places. James is also an avid college football fan and loves to hunt and fish whenever he is able.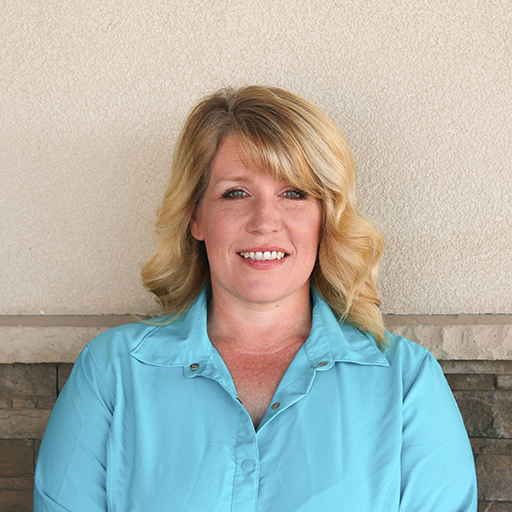 Diane Moore - Inventory & Logistics Coordinator
Diane has been with Bamert Seed Company since 2000. Prior to her role at Bamert, she was the Office Manager for Alco in Muleshoe. As our Inventory & Logistics Coordinator, Diane manages seed inventory and testing, order fulfillment, and shipping. She works closely with each of our departments to ensure customers receive the highest quality native seed as quickly as possible.
Diane grew up in Clovis, New Mexico, and has two children, Heather and Brittany, and five grandchildren: Cameron, Logan, Spencer, Lilah, and Elijah. When she isn't working or spending time with family, she loves playing softball, fishing and camping, and caring for her many animals.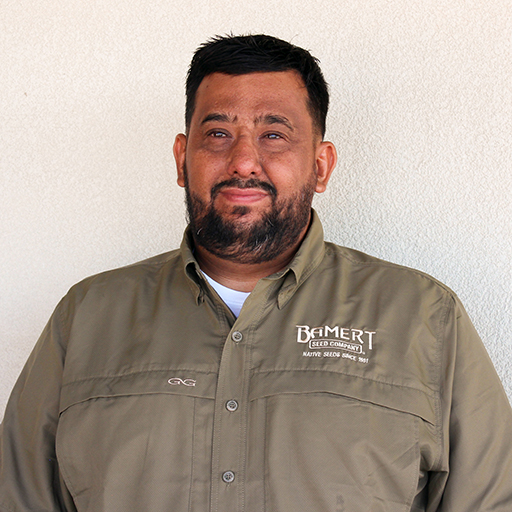 Manuel Cardenas - Warehouse/Processing Manager
Before joining our team at Bamert Seed Company in 2017, Manuel spent over a decade as a welder and millwright, along with another five years in industrial maintenance. His role at Bamert involves overseeing our seed cleaning process, which ensures our customers receive the purest native seed possible, as well as ensuring order fulfillment.
Part of Manuel's decision to join our team at Bamert was that it would allow him to spend more time with his family: his wife Carla, daughter Idaly, and Goldendoodle Lola. Idaly is active in athletics at her school and Manuel and Carla support her at every event.
When Manuel isn't at work or his daughter's school sports, he enjoys restoring old vehicles. While the goal is to revive each car for resale, the resale doesn't always go according to plan. He now has a pretty amazing collection of restored cars.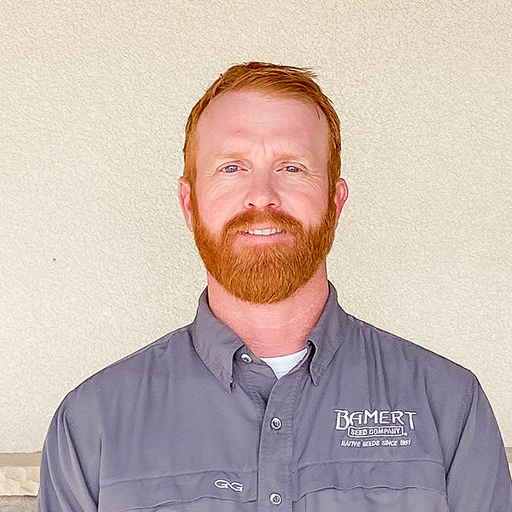 Jeff King - Production Manager
Just like our company, Jeff is a Muleshoe, Texas native. Growing up on his family's farm fueled Jeff's passion for agriculture, which led him to receive a B.S. in Occupational Education from Wayland Baptist University before moving on to gain experience in the production of conventional agricultural commodities, fertilization, pest management, and irrigation conservation practices.
Jeff joined our team in 2017. As our Production Manager, Jeff leads his team to oversee the growth and production of over 200 species of native grasses and flowers, each requiring different management strategies. As a diligent student of his work, Jeff regularly reads agricultural literature to stay aware of trends and technologies and brings innovative production techniques to our company.
When he's not working, Jeff is spending time with his wife, Suzanne, his kids, Isla and Rex, and their dog, Hope. Jeff is also active within the Muleshoe community, serving on the Muleshoe ISD School Board, leading a Bible study for coaches and educators, and running Cross & Barbell Training Club.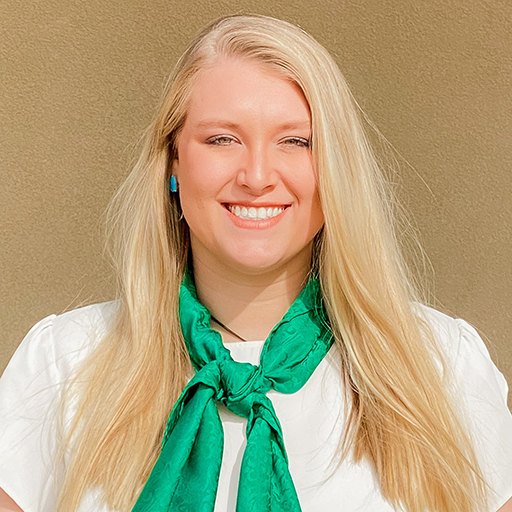 Natalie Ingle - Communication Liaison
Communications Liason Natalie Ingle joined our team in 2021 and has worn many hats in her role since her first day. An Olton, Texas native, Natalie grew up in the cattle industry, and eventually went on to Texas Tech, where she graduated in 2018 with a degree in Communications. Since joining our team in 2021, she has assisted with agricultural communications between our company and customers, managed our Accounts Payable and Receivable Department, assisted in our marketing, and single-handedly served as our HR Department.
Natalie lives in Olton with her husband, Matthew, where he works as a Football Defensive Coordinator and Head Baseball Coach. While games are an important part of their weekly schedule, they love to spend time with their two Leopard Catahoulas, Duke and Daisy, and make time to travel all over the country. Natalie has visited 29 states in the U.S., with no plans to stop anytime soon.
When she's not traveling or supporting her husband and his teams, Natalie can be found creating one-of-a-kind cakes for birthdays and other special occasions, experimenting with flavors, and working on new designs. (We can assure you, they are as delicious as they look).